Water Utilities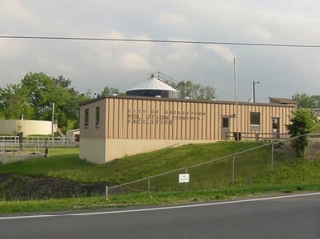 Ed Hitt, Operator in Charge
William Boettner III, Water/Sewer Worker
The City of Georgetown pumps it's water from two wells in an aquifer in Cayuga, Indiana. There it receives the required chemicals and is monitored for the correct requirements. The water is then pumped 12 miles to Georgetown in a 16 inch pipe to the water tower supplying 500,000 gallons of water through a myriad of underground main lines to over 1,500 homes and business in the Georgetown area.
Once used, the water must again be treated to allow for its introduction back into the environment. This process is accomplished at the Pollution Control Facility on Mill Street in Georgetown. Here the water is treated by a bacteriological process and detention to remove impurities. After treatment the reclaimed water is discharged into Ellis Branch Creek. The Wastewater Department is regulated by the United States EPA and Illinois EPA.
New water service
For new water service, you will need a water application, which you can find below or pick up at the city hall.
For home owners - we will need the water application, a copy of the closing papers, and a copy of your id.
For renters - we will need the water application, a copy of your lease, a copy of your id, and a $150 deposit.
How to Stop your Water Service
If you move away from the service location, it is your responsibility to contact our office at 217-662-2525 to have your service terminated. Your account is not automatically terminated. If your service is turned off for non-payment or if you move away from the service location, a bill is still generated monthly, along with non-payment fees until you notify this office requesting water service termination and provide your forwarding address.
Water Bill Review Form
Below you will find a link for a water bill review form. If your water is THREE times your average bill, fill out the water review form and submit it along with any receipts you may have from fixing the leak. The water committee will review them and contact you.
Relevant Documents